Google Earth is old-fashionned. Images are static and so old you can't recognize your brand new car in front of your house.
That was the old Google Earth. The new Google Earth, which might be renammed Google Live Local very soon, now includes… live images! Not really live, but recent! This is a new revolution a few blogs talked about: now people will be able to not only view the whole planet and recognize what they have seen in real life, where they will go for next vacations or where a relative is staying, but also have a near real time representation of their real environment within a virtual one. Real time images are not available yet, but it's clear that we are going this way.
I sugget you to go there to better understand what it means.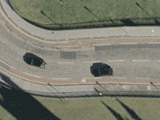 Open this file in Google Earth to have an instant preview of this new functionality!
Ok it was an April fool. Can't we dream?